Corn Bread
Lately, I've been so fascinated by various regional French breads that I've all but forgotten that North America has its own traditional breads.  A case in point is corn bread.  To many people, the term 'corn bread' conjures up visions of the dense, sometimes sweet, chemically leavened quick bread that is a staple of many a Thanksgiving Day table.  To my mind, corn bread is a yeasted bread, based on wheat flour but with a substantial amount of corn flour used for its flavor, color and texture.
Because corn flour cannot form gluten, corn bread by nature has a relatively tight crumb.  Taking a cue from Suas' Advanced Bread and Pastry, I decided to dress up the bread a bit with some shaping and stenciling techniques.  The idea was to form the loaves in the shape of a corn kernel, with the stenciling and scoring designed to give the impression of a stylized corn stalk.  I'll leave it up to you to decide whether or not I was successful at achieving the desired effect.
The formula used here is a modification of the one described in Hamelman's Bread: A Baker's Book of Techniques and Recipes.  Instead of using fine corn meal as specified, I used yellow corn flour to give a finer crumb.  White corn flour should work just as well.
Poolish

225 g King Arthur All-Purpose Flour
225 g Water
1/8 Tsp. Instant Dried Yeast

Final Dough

455 g King Arthur All-Purpose Flour
255 g Corn Flour
345 g Water
1½ Tsp. Instant Dried Yeast
15 g Salt
45 g Olive Oil
450 g Poolish (all of the above)
The evening before baking, the poolish was prepared by mixing the flour, water and yeast and allowing the mixture to ferment at 72ºF until mature, about 12 hours.  The following morning, the corn meal was added to the final dough water in the bowl of a stand mixer and, after stirring to suspend the corn flour in the water, the rest of the final dough ingredients was added.  The mixture was then mixed at speed 2 for 3 minutes to incorporate all of the ingredients.
After incorporation, the rough dough was removed from the bowl of the stand mixer and then hand mixed until a smooth dough of medium consistency was achieved.  The dough was then placed in a lightly oiled covered container and allowed to ferment for 1½ hours, half-way through which the dough was given a fold.
After the first fermentation, the dough was divided into 455 g pieces and each piece was gently rounded.  The rounded pieces where then covered with a plastic sheet and allowed to rest for 15 minutes.  After resting, each piece was formed into a tight boule, shaped in the form of a corn kernel, and placed on a couche to proof for 1 hour at 72ºF, as shown below:
After proofing, each dough piece was stenciled by placing a strip of paper down the length of the piece, sprinkling with a light dusting of flour and then removal of the paper strip, as shown in the photos below: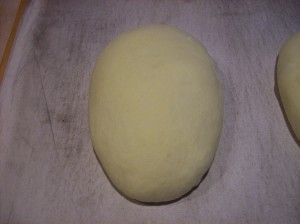 Corn Bread Dough Piece
Paper Strip in Place
Dusting of Flour
Paper Strip Removed
The loaves were then scored three times on both sides of the stencil and baked at 450ºF for 30 minutes, the first 10 minutes of which were under steam. The resulting loaves had a thin, crisp crust with a golden yellow crumb.