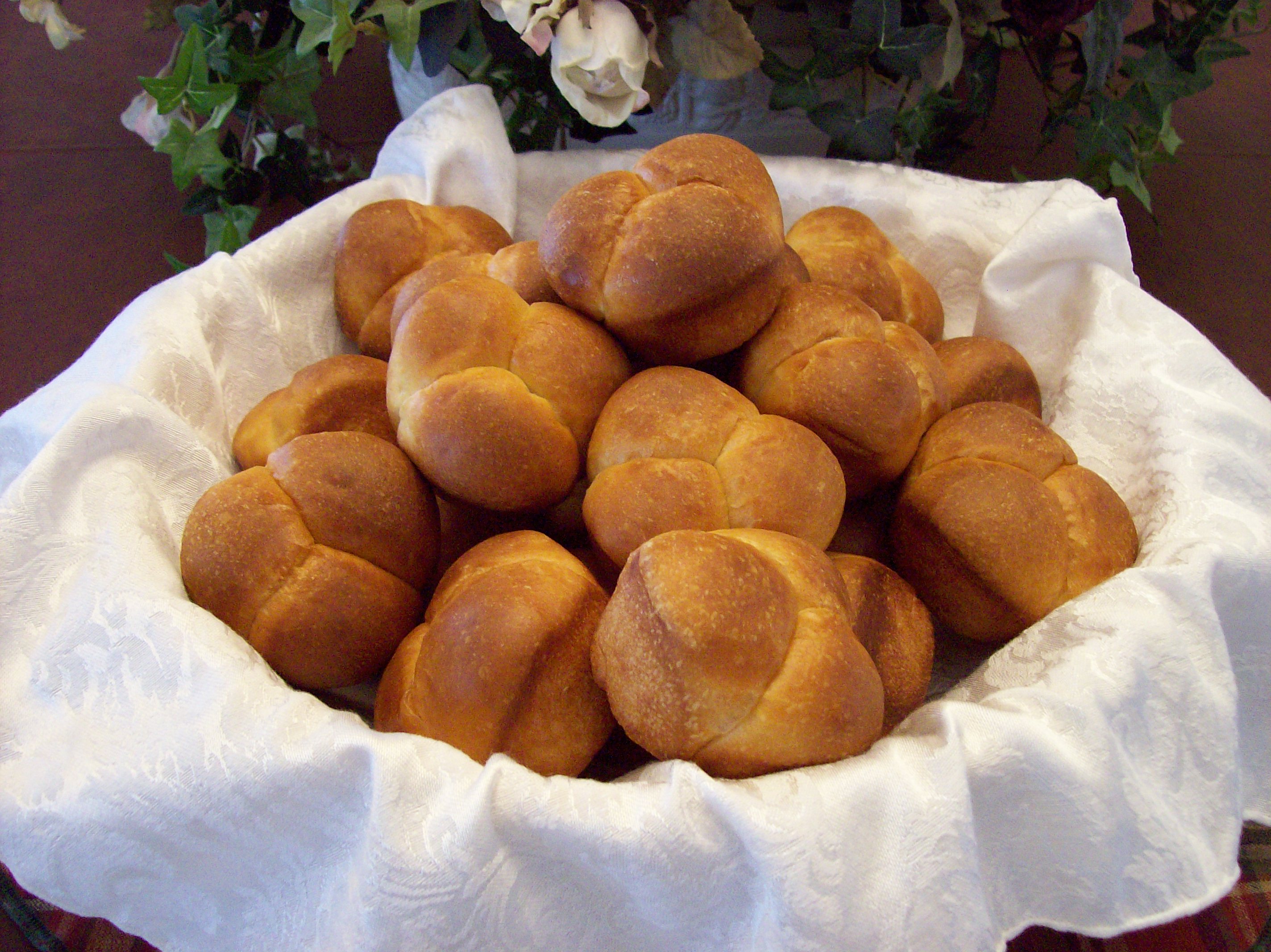 Cloverleaf Rolls
For some reason, dinner rolls have always been the preferred style of bread at my family's holiday table.  Perhaps it's simply the comfort of tradition.  Or maybe the reason is a bit more utilitarian; the convenient individual serving size saves the space needed to slice bread at the table and makes it easier for everyone to help themselves.
Among the many types of dinner rolls, cloverleaf rolls make an ideal accompaniment to a holiday meal.  They are quick and easy to make, plus they have a rich, buttery flavor.  Their 3-lobed design also lends a festive look to any holiday table.
The formula used here is a modification of the one described for Soft Butter Rolls in Hamelman's Bread: A Baker's Book of Techniques and Recipes.  Note that with this formula, I have started using King Arthur Organic Select Artisan Flour, with a protein content of 11.3%.  This lower protein content is closer to that of a French Type 55 flour.  Any observed performance differences, as compared to King Arthur All Purpose Flour, will be reported in subsequent posts.
Final Dough

500 g King Arthur Organic Select Artisan Flour
230 g Water
1 Large Egg
40 g Butter (softened)
2 Tbs. Sugar
3 Tbs. Dry Milk Powder
2 Tsp. Salt
1 Tsp. Instant Dried Yeast
All the ingredients are placed in the bowl of a home stand mixer fitted with a spiral dough hook and the mixer is run at speed 2 until all the ingredients are incorporated, about 3 minutes.  The mixer is then set on speed 3 and mixing is continued until the gluten is moderately developed, about 7 minutes.  The target temperature of the final dough is 76ºF.
The dough is then placed in a lightly oiled container, covered and fermented for 1 hour.  At the end of the 1 hour fermentation, the dough is divided into pieces weighing 40 g and each 40 g piece, in turn, is divided into thirds.  Each smaller piece is then tightly rounded and placed, 3 to a cup, into the cups of a lightly greased muffin tin (two, 12-cup tins will be required) as shown below:
Panned Cloverleaf Rolls
The tins are placed in a proof box and the dough allowed to proof for 1½ hours at 76ºF, just until the dough feels light to the touch, as seen below:
Proofed Cloverleaf Rolls
The proofed rolls are then brushed with melted butter and baked in a 400ºF oven for 15 minutes.  After removing from the oven, the rolls are once again brushed with melted butter.  The muffin tins are then inverted, yielding approximately 20 rolls.